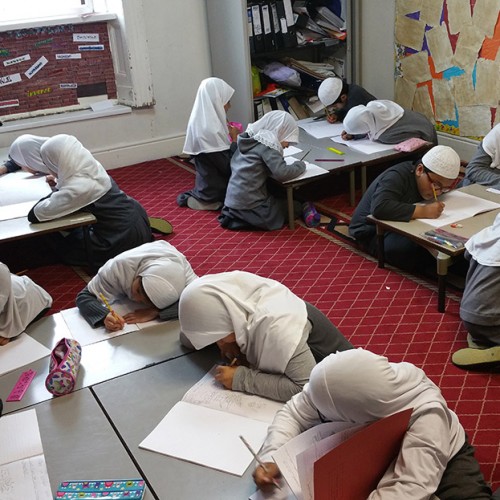 Please ensure that your child:-
Arrives to school at 8:30 a.m. and is in his/her form room by 8:45 a.m. every day for registration;
If your child is going to be absent or late please inform the office straight away.
If your child arrives late, before 9:00 a.m. (before registers close) he/she must get a late mark from their form tutor.
If your child arrives late after 9:00 a.m. (after registers close) he/ she must get a late mark from the office.
Has the correct uniform;
Grey kurta shalwar/jubba for boys and a white hat.
Grey shalwar kameez/grey pinafore with a long sleeved grey top for girls and a white scarf.
Grey cardigan/jumper.
Black pumps to wear inside.
Sensible footwear.
Outdoor coat.
Refrains from any hairstyles and fashions that are not part of the uniform ;
For boys short back and sides, mohicans, wedges are not allowed.
High buns are not allowed for girls.
Does not bring any of the following to school;
Fizzy drinks / sports drinks, chewing gum, chocolates or sweets.
Sweets and chocolates are permitted in a Friday only.
More than one packet of crisps per day.
Unnecessary items or valuables to school.
The fees for 2023/2024 will be £1750. The full balance can be paid in full at the start of the year or in 10 monthly instalments as a standing order. These are the only two ways of making fee payments.
Fee can be paid in one of two ways :
A lump sum of £1750 at the beginning of the year (07/09/2023).
Ten monthly payments as ten standing orders of £175 per month from 1st  September 2023 to 1st June  2024.