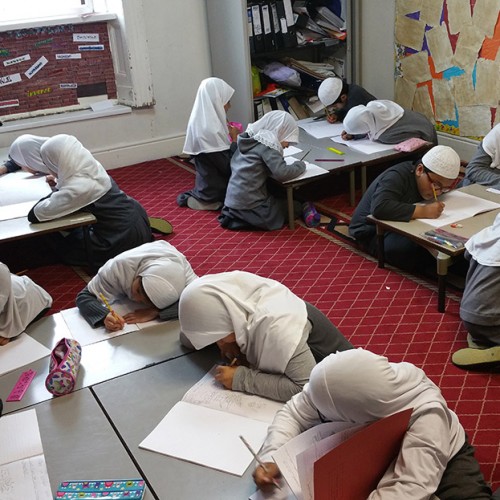 Please ensure that your child:-
Arrives to school at 8:30 a.m. and is in his/her form room by 8:45 a.m. every day for registration;
If your child is going to be absent or late please inform the office straight away.
If your child arrives late, before 9:00 a.m. (before registers close) he/she must get a late mark from their form tutor.
If your child arrives late after 9:00 a.m. (after registers close) he/ she must get a late mark from the office.
Has the correct uniform;
Grey kurta shalwar for boys and a white hat.
Grey shalwar kameez for girls and a white scarf.
Grey cardigan/jumper.
Black pumps to wear inside.
Sensible footwear.
Outdoor coat.
Refrains from any hairstyles and fashions that are un-islamic;
For boys short back and sides, mohicans, wedges are not allowed.
High buns are not allowed for girls.
Does not bring any of the following to school;
Fizzy drinks / sports drinks, chewing gum, chocolates or sweets.
Sweets and chocolates are permitted in a Friday only.
More than one packet of crisps per day.
Unnecessary items or valuables to school.
The fees for 2018/2019 will be £1450. The full balance can be paid in full at the start of the year. Those parents wishing to pay in instalments can do so, but MUST ensure that payments are made on the following dates ONLY.
| | | |
| --- | --- | --- |
| Term 1 | Term 2 | Term 3 |
| 11/09/18 | 02/01/19 | 23/04/19 |
| £500 | £500 | £450 |
CAN ALL PARENTS PLEASE ENSURE THAT PAYMENTS ARE MADE ON THESE DATES AND RECEIPTS OBTAINED AND RETAINED AS PROOF OF PAYMENT.